The Lighthouse Club, Phuket Branch
Briefly, the Lighthouse Club branch in Phuket has monthly social meetings at The Yorkshire Inn pub & restaurant, various activities such as golf outings, wine tasting, etc., and a monthly newsletter. The main purpose of the Lighthouse Club is a charity as discussed below.
Founded by engineers, the club also welcomes architects, property developers, real estate agents, lawyers, investors, construction businesspeople, and those from related fields. Members and meeting attendees are both expats and Thais, though English is the most spoken language.
The Phuket Branch was started in 2005 and has been growing steadily.
Details
Origins of the Club and the Phuket Branch
The Lighthouse Club was formed in Newcastle-upon Tyne in 1956 by Edward Ward and his colleagues attending an exhibition at Whitley Bay. The name "Lighthouse" coming from St. Mary's Lighthouse in Whitley Bay. The essence of the club was to promote the goodwill and co-operation between persons involved in the construction industry.
The Bangkok branch (www.LighthouseBKK.com) was established in 1991 when Nigel Pearson, a former member of the Hong Kong branch, persuaded 6 other prominent personalities of the Bangkok construction scene to combine efforts and create a branch membership. After several months with membership standing at 45 people and great interest showing in the Club, the inaugural Bangkok Lighthouse Club Dinner was held on 27 May 1992 and was attended by 110 members and guests. Membership peaked in 1996 when the annual dinner had over 400 guests, then the 1997 economic crash reduced our numbers, but membership ramped back up from 2000 thru 2006.
The Phuket branch was established in 2005.
Membership in the Bangkok and Phuket branches is reciprocal, i.e., you get two for the price of one. Annual dues for individuals is only 1500 baht/year.
Enquiries: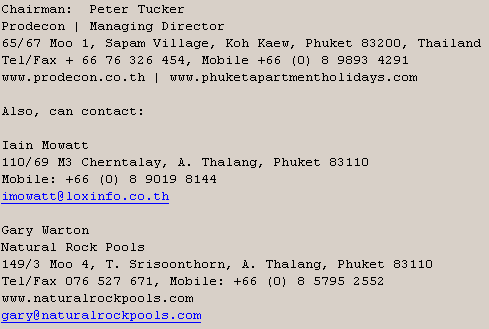 The Club motto "Aliis cum Humanitate", which translates as "Consideration for Others" was instrumental in the setting up of the Lighthouse Club Benevolent Fund in the early 1960's which provides for financial assistance for members involved in construction related accidents.
The Lighthouse Club Bangkok established its own Benevolent Fund in 1993, the objective of this fund is currently to promote a safer working environment in Thailand through training, printed safety literature etc. togetherwith a popular focus on the underprivileged construction workers children. A unique school is being constructed on the huge Rom Klao National Housing association site in Bangkok, with the intention of reducing the danger to worker's children wandering in the dangerous site environments and also to provide a community service.
News: In early 2000, we completed the building of a school for the children of construction workers at the new airport site, which now has about 50 students.
The Lighthouse Club Committee, through its regular meetings, has established a full calendar of sports and social functions, all of which are published in the newsletter.
A choice restaurant and bar in Patong, Phuket, would be a nice place to meet, right?
Members, prospective members, and guests meet every month on the 4th Wednesday at The Yorkshire Inn, so Sansabai, Patong, as noted on the map below. The meeting starts at 7:00pm. The first barrel of beer is free, thanks to the sponsor. Two free barrels is common. However, members should have 200 baht handy to make a donation to Lighthouse Club charity projects, and guests should have 500 baht.
2006: May 24, June 28, July 26, Aug 23, Sept 27, Oct 25, Nov 22, Dec 13 (special date for December)
The Yorkshire Inn is conveniently located on soi Sansabai, just 50 meters down from the intersection of soi Bangla and Rat-U-Thit 200 Rd. Soi Sansabai is basically the same road as soi Bangla but it changes name when you cross Rat-U-Thit 200 Rd., and there is a traffic light at that intersection.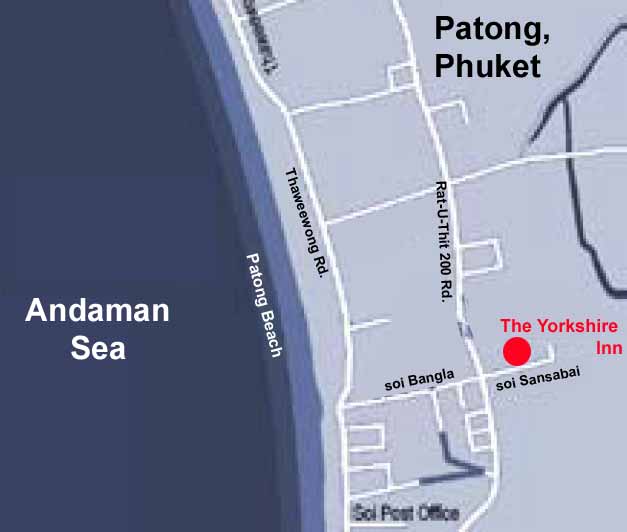 The Yorkshire Inn has a wonderful hotel and luxury apartments in Patong, Phuket, as well as an authentic British restaurant and pub, with live premier league football on one of two giant plasma screens. The proprietor, Mr. Paul Gibson, is a former PGA professional golfer, and he is normally around.
If you would like to sponsor a monthly meeting, please contact:
Mr. Paul Gibson, Manager – The Yorkshire Inn
169/16 Soi Sansabai, Rat-u-thit 200 Rd, Patong Beach, Kathu, Phuket, 83150, Thailand,
Tel: (66) (0) 76 340 904, (66) (0) 76 345 258 Fax : (66) (0) 76 345 259
E-mail : info@yorkshireinn.com, ysinn@ksc.th.com
Website : www.yorkshireinn.com
The capacity is approximately 80 people, though it has occasionally seemed as if we've fit more than that into the area.
Sponsors are encouraged to display posters and self-promotional material such as sales brochures and products. The floor layout is an inverted L shape, and you can place any materials into the peripheral space as you see fit.
We have regular golf outings, some scheduled well in advance, and others on a rather short notice. To stay informed, the best thing to do is get on the email cc: list for these events. Each month's outings may or may not be posted on this website. You can also call Lee Brock in Phuket at (076) 273-486
Notably, the proprietor of The Yorkshire Inn where meetings are held, Mr. Paul Gibson, was a former PGA professional golfer.
The LHC is dedicated to continuing its commitment to promote comradeship between its members and prospective new members by holding regular informal get togethers, maintaining a varied and interesting sports and social calendar, and providing communication through the quarterly magazine. The ultimate hope is to host a Lighthouse Club International Dinner here in Bangkok.