Raimon Land Rugby Dinner – 19, September 2008
On 19 September 2008 the Lighthouse Club, Bangkok Branch and the St David's Welsh Society jointly hosted a dinner at the JW Marriott Hotel which featured three (3) former Wales rugby union captains from the golden era when the sport was still an amateur one. The guest speakers were Gareth Davies (fly half), Steve Fenwick (centre) and Mike Watkins (hooker) and the three of them gave entertaining and insightful speeches covering current affairs, amateur rugby, professional rugby as well as some old war stories.
The evening was a huge success with 250 enthusiasts present. As well as promoting both the Lighthouse Club and the St David's Society and providing entertainment to the Bangkok rugby purists, the event succeeded in raising THB 447,000 for the Human Development Foundation which is headed up by Father Joe Maier who was present and gave a short speech. The monies raised will be utilised to provide both education to impoverished children residing in Bangkok's slums and the children of construction workers living on building sites. This is the second rugby dinner of its nature that has been organised with the first one occurring in Pattaya in November last year and which was the catalyst for the formation of the Pattaya Lighthouse Branch. It is expected that this event will now become an annual affair.
Pictured left to right are Steve Fenwick, Father Joe Maier, Gareth Davies and Mike Watkins: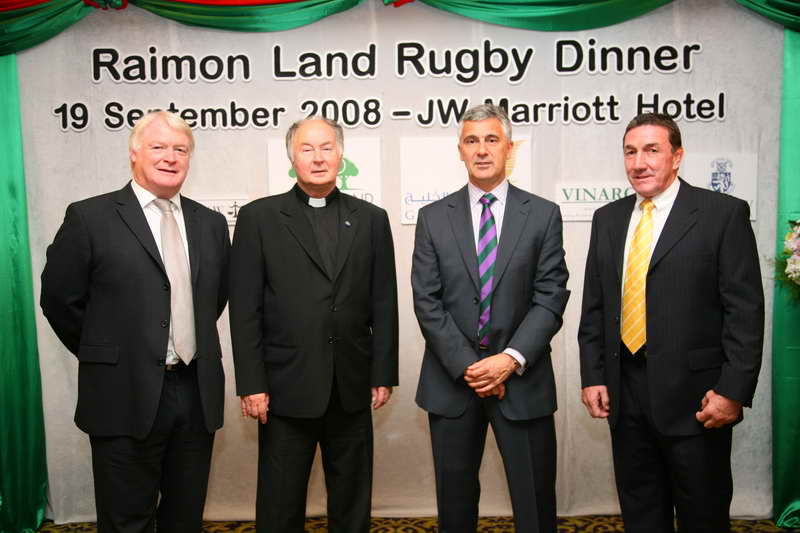 You can click on the photo for a larger one in another browser tab or window.